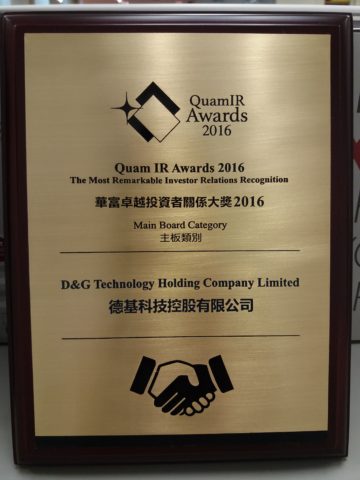 (Hong Kong, 25 May 2017) – D&G Technology Holding Company Limited ("D&G Technology" or the "Group"; Stock code: 1301.HK), a leading medium-to-large scale asphalt mixing plant manufacturer and service provider in China, is pleased to announce that the Group has been awarded the Quam IR Awards 2016 – Main Board Category. This is the second consecutive year that D&G Technology is recognized, following the award of "Quam IR Awards 2015 – First Year After Listing" last year.
The Quam IR Awards aims to recognize models of practice and leadership in Investor Relations (IR) among the listed companies in the Asia Pacific region for their outstanding communications between companies and stakeholders. Winners were devoted in upholding transparent communications between companies and stakeholders in the past year. The Judges are impressed by D&G Technology's performance of investor relations work and consider the Group well-deserved to be awarded.
D&G Technology enthusiastically participates in various "One Belt, One Road" infrastructures, and is honoured to be involved in the projects. Apart from business development, the Group also engages a professional investor relations team to ensure effective communication and corporate transparency.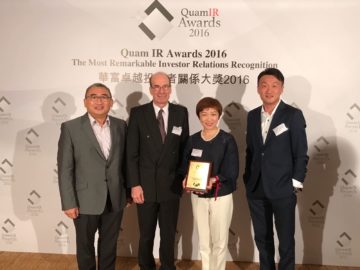 Ms. Glendy Choi, CEO and Executive Director of the Group, said, "We are very honoured to be awarded with Quam IR Awards again. The Group has been keeping close relationships with investors since our listing. Through timely disclosure of the Group's latest information, investors are allowed to follow our latest development. Recently, we participated in the first Advanced International Conference on "The Belt and Road" Industry and Finance in Beijing on 15 May 2017 to discuss the development and opportunities brought by the Belt and Road initiatives which further affirmed the Group's authoritative image within the industry and enhanced our presence in the region."