D&G Technology (1301.HK), which was awarded the "World's Top 100 (Plus 50) Construction Machinery Manufacturer" and "China's Top 30 Construction Machinery Manufacturer", is committed to the pursuit for technological innovation.
Recently, the Company has applied the concept of "5G+ Industrial Internet of Things (IIoT)" to the field of asphalt mixing plant, and officially launched an industry first "5G+ IIoT" asphalt mixing plant in Hubei Province. The plant will accelerate the development of the industry by enhancing operational efficiency and promoting industrial interconnection.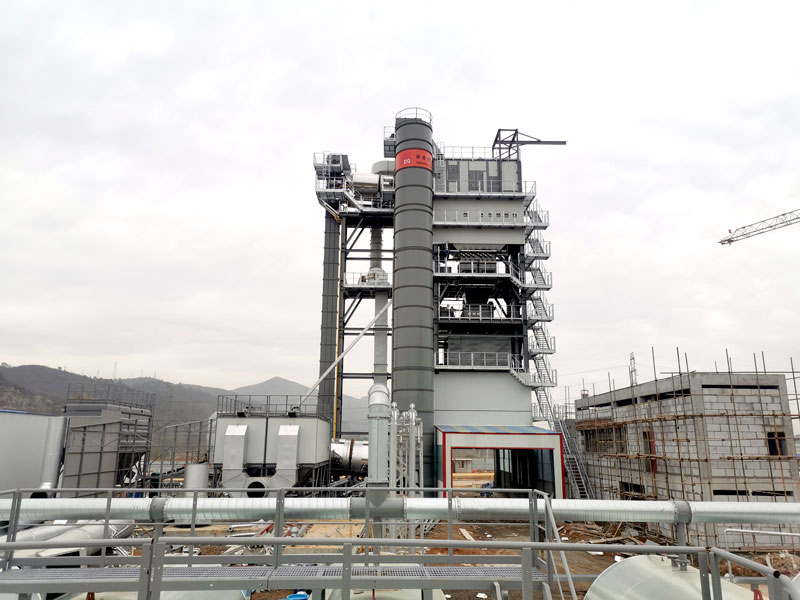 D&G Technology Interconnected through 5G+ IIoT
With the world entering the 5G era, China is devoting greater dedication to achieve urbanization and technological development. D&G Technology stays abreast of the moving pulse of the market by launching China's first asphalt mixing plant integrated with 5G technology in February 2021. This application of 5G technology to the road construction machinery field is never seen before in the industry and aiming to foster the development of the third generation of smart construction machines, which can facilitate clients' needs in overcoming the challenges associated with digitalization under business transformation.
In terms of the industrial field, D&G Technology continues to cooperate with different industries and organizations to develop and explore the possible application for 5G technology. Meanwhile, 5G brought revolutionary reindustrialization to the manufacturing industry, and gave rise to the segment where smart manufacturing and innovative technology shapes its foundation. With the application of big data, Internet of Things (IoT) and automation, 5G technology supported the creation of high-tech smart factory with enhanced production efficiency and quality while keeping operational cost under control.
The newly launched "5G+ IIoT" asphalt mixing plant draws on the technical advantages of 5G technology, IoT and Edge computing, to enable real-time control, automated upgrade for production facility and labeling, which optimizes operational efficiency and minimizes business expenses. The "5G+ IIoT" asphalt mixing plant showed success in monitoring and controlling a project site instantaneously from thousands of kilometers away at the stage of debugging and installation, demonstrating its remarkable network connectivity and high-level automation, real-time machinery status overview and diagnostics, along with the feature for remote production control when deemed necessary. This innovative advancement for the operation of asphalt mixing plant lays a solid foundation for future development of fully automated production facility.
State Policies encourage IIoT Innovations, while COVID-19 Pandemic accelerates the Digital Transformation of Enterprises
According to a report by KPMG, a renowned accounting firm, the need for companies to digitally transform their current business models is all the more pressing as the effect of the pandemic unfolds, where 5G technology and edge computing are likely to play an important role in the recovery of global economy. Boosted by the rapid development in 5G and edge computing, the manufacturing industry is expected to grow by 51% in 2019-2023, representing an increase of market opportunities valued at US$ 206 billion within the manufacturing ecosystem.
The 5G commercialization in China is accelerating at a progressively faster pace, as state policies favors the execution of development strategy for IIoT innovation and propels the joint development of industrialization and Informatization. Ministry of Industry and Information Technology (MIIT) had released the "Action Plan for Development of Industrial Internet Network Infrastructure (2021-2023)". Liu Liehong, Vice Minister of MIIT, stated earlier that over 718,000 5G base stations have been built in China, accounting for about 70% of the world's total. In addition, 5G networks in standalone mode have covered all cities in the country, with over 200 million terminal connections established, and the average household usage of 5G mobile traffic has surpassed 4G usage by 50%. The Chinese telecommunication industry has invested over 260 billion in the 5G telecom network infrastructure and has since rolled out the 5G terminal pilot program in over 30 provinces across the country, with its implementation covering over 10 sectors, including energy, medical care, transportation, education, and cultural tourism. Meanwhile, the 5G telecommunication network in Hong Kong will be established by April 2020, and the local government is actively accelerating 5G commercialization in support of state policies.
D&G Technology has been responding to the PRC government's call to develop the IIoT platform with considerable human and material resources. In 2019, The "DGLEAP" Control System developed by D&G Technology became a key project for developing IIoT in Hebei Province. In 2020, D&G Technology applied 5G technology and developed the "5G+ IIoT" asphalt mixing plant. The first smart asphalt mixing plant developed by D&G Technology made use of 5G technology to enable real-time remote production control and simultaneous machinery status update for plant controllers, allowing efficient and effective macro management even when such workers are located thousands of kilometers away from the actual production unit.
About D&G Technology Holding Company Limited (Stock Code 1301.HK)
---
D&G Technology is a leading one-stop asphalt pavement infrastructure product service provider. It is listed on the main board of Hong Kong and specializes in the development of high-end energy-saving and environmentally friendly asphalt mixing plants and asphalt mixing recycling plants. The group also provides customers with equipment leasing, equipment modification, spare parts and components supply, hot mix supply, and technical support and consulting services. Over 600 sets of D&G's asphalt mixing plants have been worked in most provinces, municipalities and autonomous regions in China, as well as more than 30 overseas countries and regions, including more than a dozen countries along the "Belt and Road", such as Southeast Asian countries, Russia, India, etc. D&G Technology has participated in a number of landmark road infrastructure projects, for example, China's Beijing-Hong Kong-Macau Expressway, Hong Kong-Zhuhai-Macao Bridge, Russian Airport Project and China-Pakistan Economic Corridor Project.